Wisconsin
3 things that stood out from Wisconsin men's basketball's win over Stanford
MILWAUKEE — It might as well have been a home game for the University of Wisconsin men's basketball team as fans cheered the team on to a neutral location win.
An announced attendance of 17,927 was at American Family Field, home of the Milwaukee Brewers, for the Brew City Battle. The fans helped the Badgers defeat Stanford 60-50.
The Badgers led from start to finish. Their biggest first-half lead was 13 points with 1:08 left. They used a 9-2 run over the last five possessions to put a 32-20 lead at halftime.
Instant Analysis: Jordan Davis shines offensively and defensively for Wisconsin men's basketball
It wasn't a pretty start to the second half as the Badgers conceded 12 points in the first five minutes. Brandon Angel scored eight of his 14 points at this distance.
Stanford came within five points with 8:22 left when 2022 Pac-12 Freshman of the Year Harrison Ingram scored. UW would extend their lead to as much as 11 points before continuing the season 2-0.
Tyler Wahl led the Badgers with 17 points. Jordan Davis had a career-high 13 points and Chucky Hepburn added 11. Steven Crowl had a career-high 11 rebounds and finished with nine points.
Polzin: Why Wisconsin is open to playing in places outside the box
It was uncertain whether or not Stanford's top scorer from last season would play. Spencer Jones missed Monday's season opener with a lower body injury. He wasn't in the starting XI but came on after the first time-out. He scored immediately for Stanford, finishing with eight points.
Neither team shot particularly well, with UW at 37.3% and Stanford at 36.2%. There were six 3-pointers made throughout the game – all but one were scored by the Badgers.
Here are three things that stood out.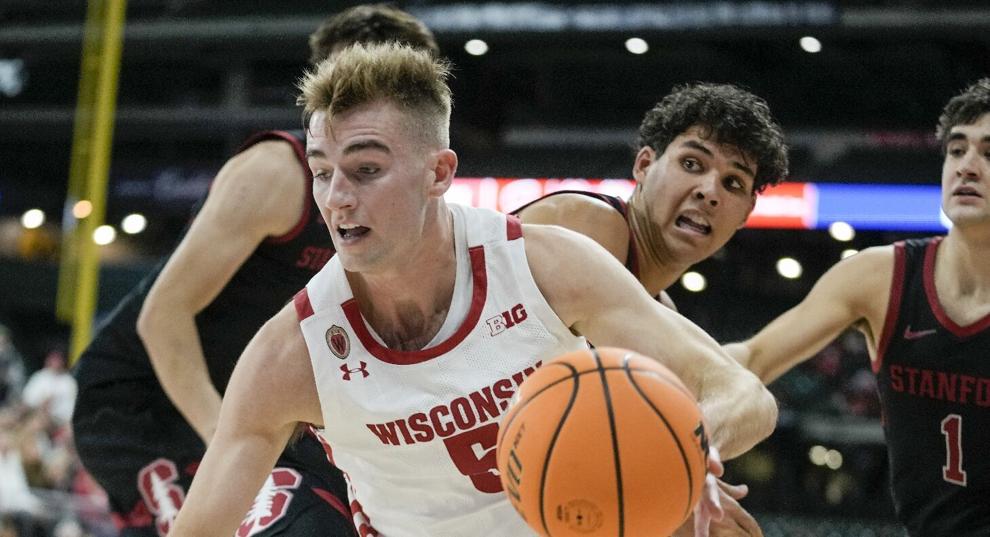 Essegian's big moment
Max Klesmit's early foul troubles gave Essegian an opportunity to step up for the Badgers. He took the field in just 2:14 seconds and finished the first half in 16 minutes – playing just 14 in Monday's season opener.
His first shot was blocked by Stanford's Michael Jones, but that didn't stop the rookie from trying again. Less than three minutes later, he made a run-up and followed that up with a 3-point shot. Essegian ended the half with five points.
Essegian went in early in the second half when Klesmit got his third foul at 16:30 to go. He hit a 3-point shot at 13:01 to give UW a 12-point lead.
Basketball players from the state of Wisconsin can't wait to play at the baseball park
The freshman guard finished the game with eight points and two rebounds over 23 minutes.
force error
Stanford has a veteran-laden team with eight of the top nine scorers to return from last season. UW's Carter Gilmore said before the game that it would be difficult to force the Cardinal to make a mistake.
The Badgers didn't seem to be having a hard time as Stanford had 12 turnovers in the first half alone. UW translated those errors into 18 of his 32 first-half points.
Wisconsin women's basketball squanders strong start in 'positive' experience
UW also made sure to correct his own mistakes. Jordan Davis lost control going for the shot and Stanford's Michael O'Connell stole the ball. Davis immediately took it back and fed it to Essegian, who missed. Davis was there to clean up as he grabbed and hit the offensive rebound.
The Badgers opened the second half with two straight turnovers and had four more by the end of the game.
Second half fights
In the second half, it took the Cardinal a little over 12 minutes to equal his 20 tally from the first half. The lead was further reduced to single digits as the Cardinal won the half, 30-28.
Polzin: A closer look at Barry Alvarez's trifecta of clumsiness
It was a lot colder in the second half at American Family Field, but that didn't seem to limit Stanford as much as UW. Stanford shot 40% in the second half, including his only 3-pointer. Angel scored 10 of his points in the second.
The Badgers shot 40% and were 2 for 9 from 3-point range. They had a 6-minute, 23-second drought from Essegian's 3-pointer with 13:01 left to the 6:38 mark when Hepburn drove the baseline and hit a turnaround, fadeaway jumper. Only Wahl's free throw was scored between those buckets.
Photos: Wisconsin opens the season with a win over South Dakota