West Virginia
Five Biggest Takeaways From Week 7 of the Big 12 Football Season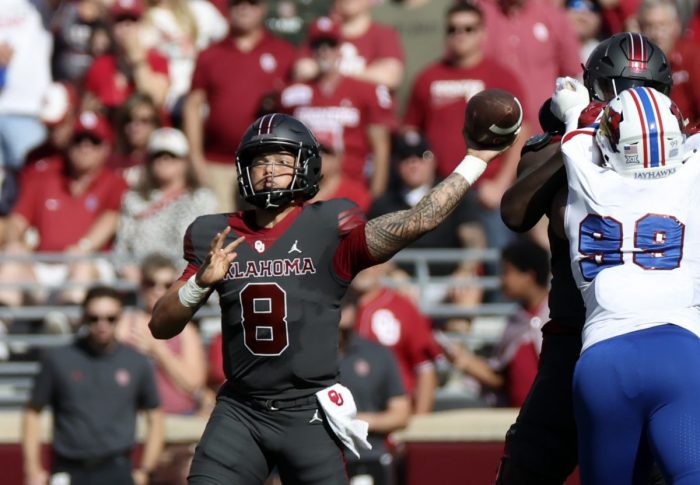 Week 7 of the Big 12 football season is in the books as conference games kick off across the league. There were four games this week with West Virginia beating Baylor 43-40 to start the week on Thursday while we had three games on Saturday including Texas vs Iowa State 24-21, Oklahoma vs Kansas 52-42 and TCU came by Oklahoma State in overtime 43-40.
With another wild week in the books, here are the five biggest takeaways from Week 7 of the Big 12 conference.
1. West Virginia needed this
No coach needed a win more in Week 7 than Neal Brown. The Mountaineers were coming off an embarrassing performance against Texas and had almost two weeks to think it over. WVU played in front of a partially empty stadium, but as Brown noted after the game, the fans who didn't show up missed a good one as the Mountaineers earned the 43-40 win over Baylor in an absolutely thrilling two-legged fourth-leg Game. Rather than being 0-3 in the Big 12 game and 2-4 overall, the Mountaineers are 3-3 (1-2) and are in a much better position to make a bowl game than they were a week ago were. And boy does nobody need (at least) a bowl game to feel better about the future of the program than Neal Brown.
2. Texas wins ugly
Any team planning to win a conference title must learn how to win ugly. And that's exactly what Texas did on Saturday with a 24-21 win over Iowa State. It was a classic trap game and quarterback Quinn Ewers wasn't his strongest on Saturday, finishing 17/26 for 172 yards, but it was Bijan Robinson who picked up the slack for the Longhorns and finished with 135 rushing yards against the afternoon game #1 rushing defense in the Big 12.
The Longhorns are 3-1 in the Big 12 game and should feel like they have as good a chance as anyone in the league to win the conference this season, especially now that Ewers is back at quarterback. But the next month will decide whether or not they are serious contenders as they face four straight ranked teams, starting with the Oklahoma State Cowboys next Saturday.
3. The State of Iowa is learning valuable lessons in rebuilding
Iowa State fell to 3-4 overall and 0-4 in the Big 12 game with the loss to Texas. However, these four losses totaled 14 points and the last three three points or less (seven points total). Also, it could be a game here or a game there (vs. Kansas, K-State and Texas) and Iowa State 3-1 in the Big 12 and 6-1 overall. I understand football can't be viewed with ifs and buts, but Iowa State is one of the youngest teams in the country in a year that we all knew was going to get a bit of a rebuild.
When you look at the bigger picture, these guys are growing together and Matt Campbell is undoubtedly turning this season and those moments into positive growth opportunities for his team. That perspective seems important to Iowa State fans who may prefer to just look at the record.
4. Oklahoma is… back?
Have you ever gone? If you ask some OU fans, they were ready to move away from Brent Venables after a 49-0 win over Texas. Some are already looking for Matt Rhule.
But it's amazing what a healthy starting quarterback can do for a team when Oklahoma beat Kansas 52-42 and Dillon Gabriel was back at center as the Sooners won their first Big 12 game of the season and a three -Games slip scored. Gabriel finished 29/42 for 402 yards with two passing touchdowns and a rushing touchdown.
There's no doubt the Sooners still have a lot of work to do, especially on the defensive side of the ball. However, there was plenty of overreaction to last week's historic loss and it's unfair not to let Venables work through this and build the program as he sees fit. It will take a recruiting class or two hours to rebuild by Oklahoma standards, but relying on Venables soon seems like too much.
5. Turnaround of the TCU
TCU's turnaround may relate to that game itself (beat Oklahoma State 43-40) or to the entire season. The Horned Frogs trailed 24-7 in the second quarter of that game before turning around and earning a three-point win in double overtime. The Frogs are now 5-0 up and have reached their winning total from last season. In fact, TCU is attempting to win more than seven games for the first time since the 2017 season when they reached the Big 12 championship game.
Sonny Dykes has given this team a lot more confidence on the offensive side of the ball. It's been unfathomable for the past few seasons to imagine that Gary Patterson's team would win a game 17 points down. They can. Max Duggan is more confident than ever and even admitted games like Saturday were the reason he didn't want to leave TCU. He made the right decision and it's paying off for the Horned Frogs. Now there's another top 20 match against the K-State Wildcats next week.