West Virginia
Credit One Stadium 1 of 3 pop-up skating rinks in Charleston area without real ice | Charleston Scene
DANIEL ISLAND — As skates shuffled across the white surface that temporarily covered the clay tennis court below, no ice spattered off the runners and left no grooves.
Children and adults alike wobbled from foot to foot as they circled the makeshift hall. While it wasn't the most polished performance to watch from the sidelines, on a 75 degree day in Charleston these skaters wouldn't have had the same opportunity if they were on real ice.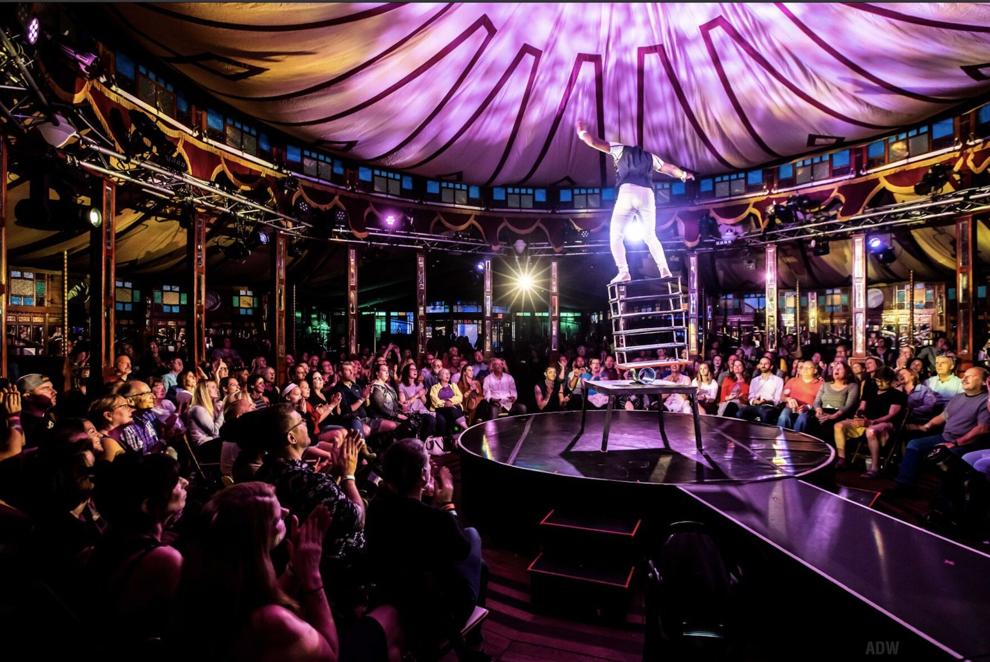 The new outdoor ice rink at Credit One Stadium is one of three to be built in the Charleston area this season and will be made of synthetic ice, a high-density polymer or polyethylene plastic.
There's also one at the Charleston Harbor Resort and Marina in Mount Pleasant that will be open Thursday through Sunday through February 5th, and another promised December 23rd through December 25th at Folly Beach across from Bert's Market.
In just a few days, more than 5,000 online advance tickets for the Credit One ice rink were purchased; Guests are still invited to watch, but rinks are booked.
As for the "ice," polymer is cheaper to use and doesn't require the same type of cooling system that could bog down in the unpredictable December lowcountry temperatures.
The oval ice rink at Credit One, which occupies most of the Daniel Island concert hall's flat standing area, was built in three days by the in-house crew, a group that had never attempted the feat before.
That included seven workers eight hours a day installing 255 plastic panels, each weighing 86 pounds. After the 3-by-6-foot panels were joined, dasher walls were added to line the edges of the rink. Then Christmas trees, fire pits for roasting s'mores, and other festive touches were installed.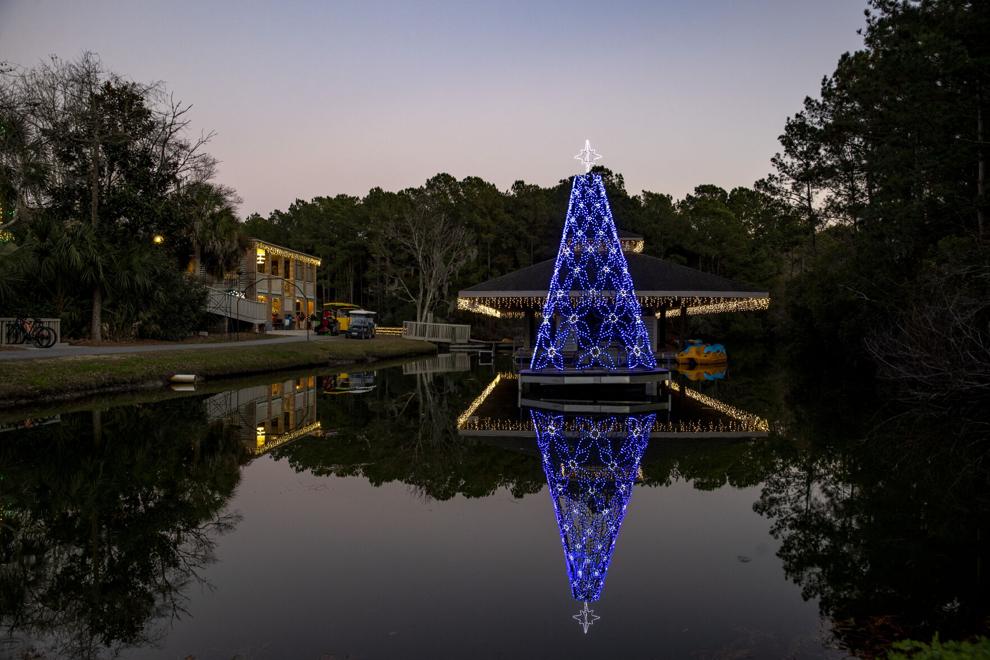 There's a Santa's Sweet Shoppe snack bar in the hall where you can buy holiday treats, as well as an upstairs one with a great view of the ice rink that serves coffee and hot chocolate, neat or with mint schnapps or Baileys Irish Cream. So there is a little something for the whole family.
S'mores were a must for Chris and Emily Mingledorff after an hour of laps around the rink with children Molly and George on December 3rd. Her oldest daughter in high school came over with friends later that evening.
The family have lived on Daniel Island for 11 years and were pretty excited to be skating in their own backyard. They've been to Rockefeller Center and Bryant Park skating rinks in New York City, as well as ski resorts out west, but Emily Mingledorff said there's nothing quite like skating at home.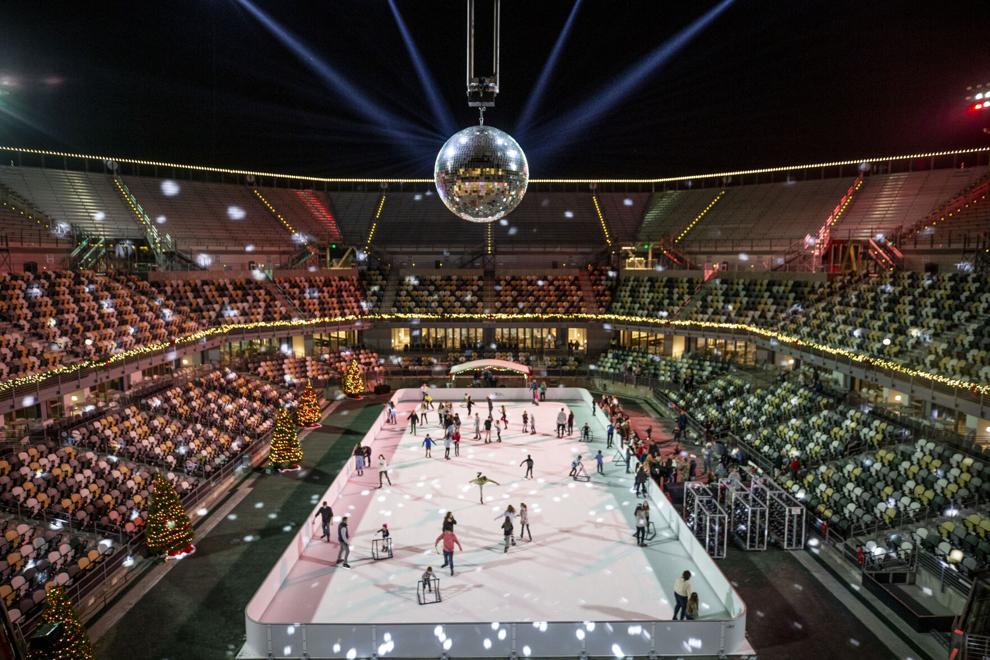 "All of us Daniel Island residents are truly grateful to have these new opportunities for our family and friends," Mingledorff said. "The tennis and the concerts were wonderful, but this is something very special."
The very first ice rink at the venue was an idea promoted by the Daniel Island Community Fund, including event planner Maureen Hickey.
"We had a conversation that instead of having our annual tree lighting across the street and then doing something festive here, why not just combine the two?" said Hickey.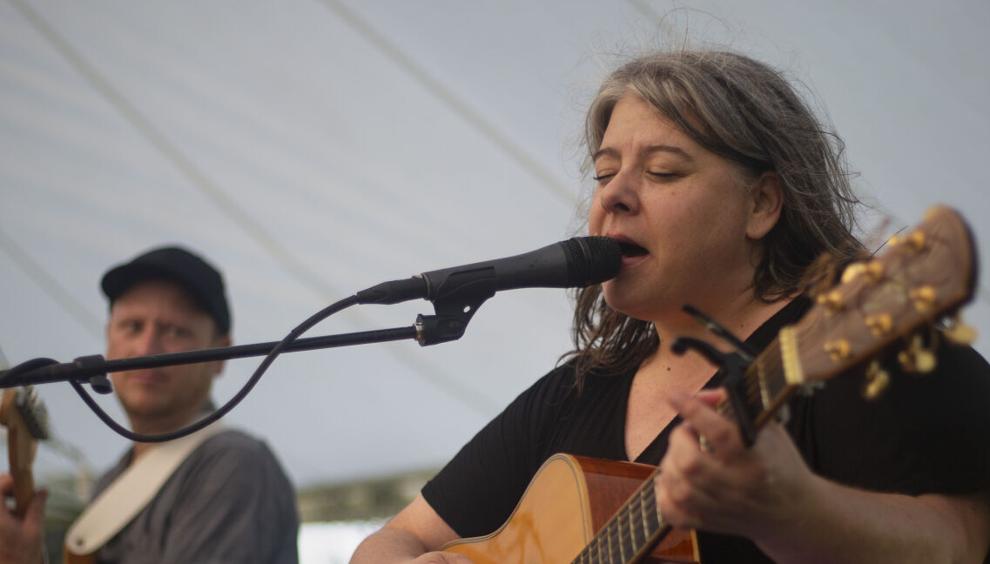 This year's Daniel Island Tree Lighting took place inside the stadium, with a Santa Claus fire engine procession winding its way from the courtyard to the stands. The ice rink was opened the same evening. As the lights came on and shimmered throughout the amphitheater, including a dazzling disco ball, artificial snowflakes fluttered in a magical show.
"I was just like, 'Pinch me, is that Charleston?'" Hickey said.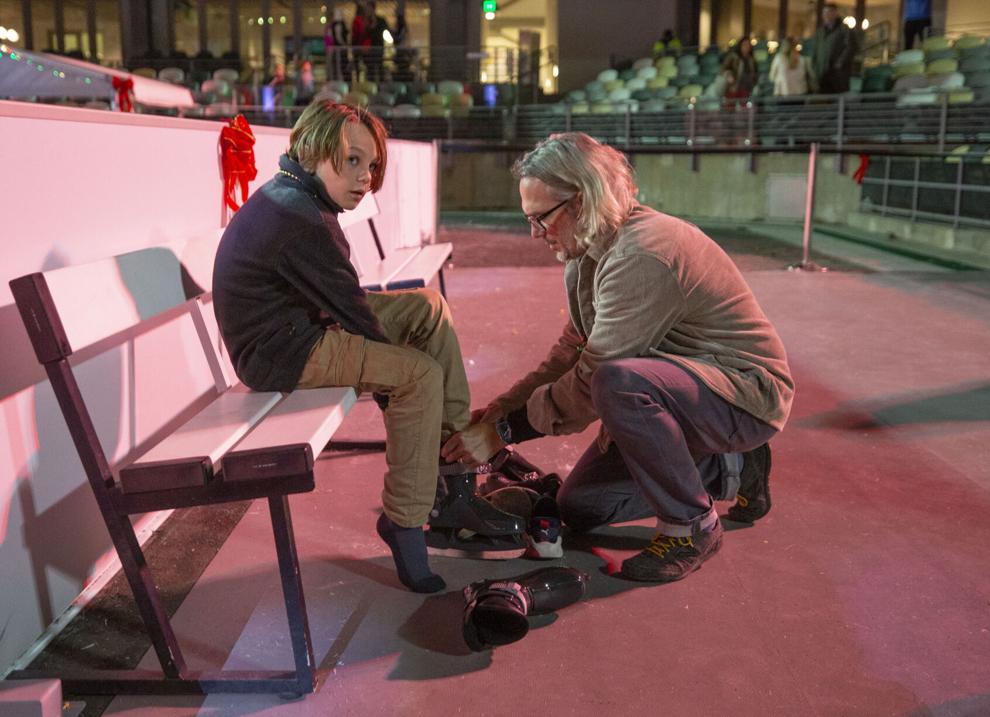 Ashley Ridge High School teacher Kim Emery wasn't there on opening night, but she was there the day after as those who signed up for a slot online lined up for their skates. Her volunteer work at the United Sports Foundation, an organization that raises money for students to play sports, included sizing skaters and sharpening blades, which is especially necessary for synthetic ice.
Emery, who has been at the Summerville school for 14 years, said she wouldn't be surprised if some of her students showed up. She herself had no intention of skating.
"I'm scared of it," she said, laughing. "I haven't put on skates in 20 years. Now I could sprain my ankle."
While the artificial ice doesn't offer quite the same sort of glide as real ice, it's less painful to fall on and feels more like a linoleum kitchen floor than a rock-hard veneer. From an observer's perspective, it also appears to be more stable, with fewer full falls.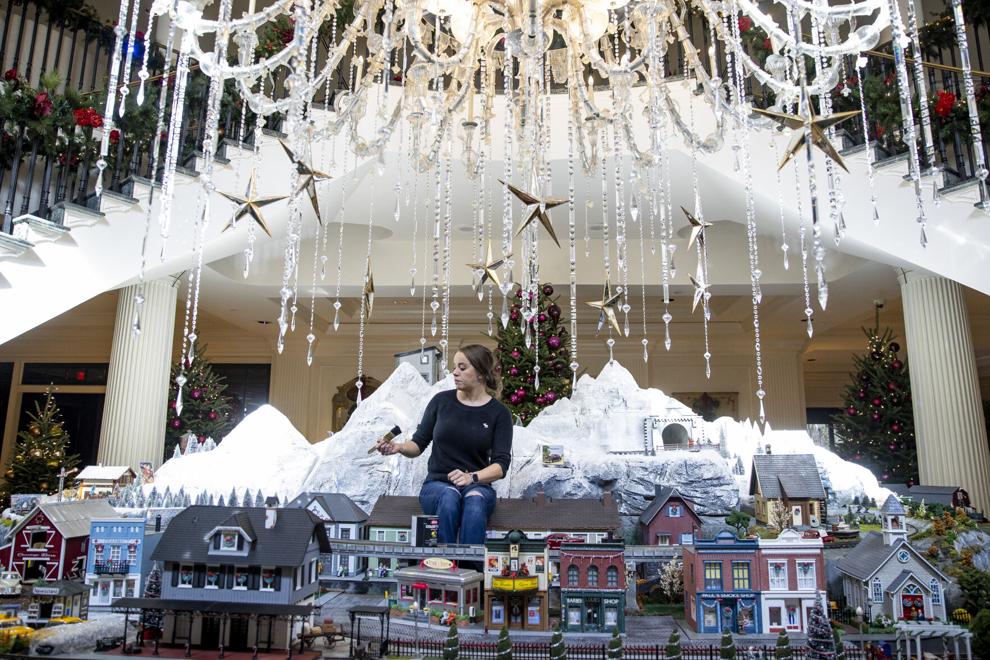 "I watched from the sidelines to see how it worked and by the end of the session everyone had the hang of it," Hickey said. "I think it's probably easier for the little kids in particular. You didn't see Bambi very often on the ice."
Retired firefighter and paramedic Steven Rosone brought his experienced skating family, originally from New Jersey and currently based in Mount Pleasant, to the rink on opening day.
His daughter Samantha, 11, who takes figure skating lessons at Carolina Ice Palace, Charleston's indoor ice arena, admitted the artificial ice didn't quite match the actual material. Son Tyler, 13, agreed he was a bit disappointed.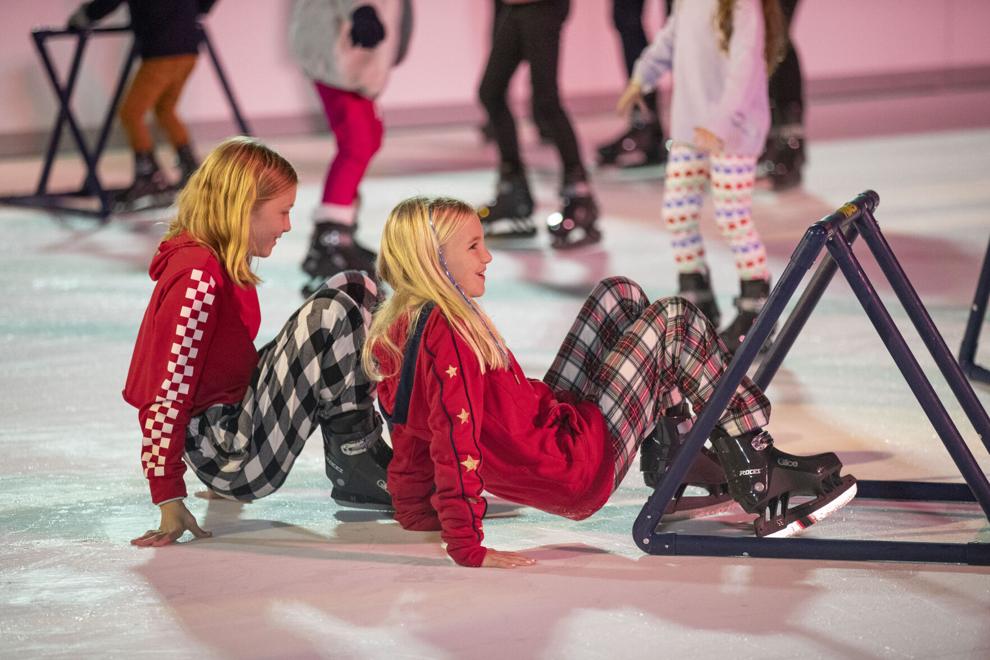 "It's easy to stay up, but not easy to skate," Samantha offered between moves.
It was about a festive outing, said Rosone, who was also planning to take his wife Stacey and children to the James Island Festival of Lights and the Isle of Palms Christmas Festival, along with some upcoming pop-up Christmas markets.
"I grew up skating and snowing every year, but I'll trade it for this weather," Rosone said, laughing, noting that Samantha donned a swimsuit and shorts in December.
Charleston Tennis President Bob Moran said it was heartwarming to see locals embarking on a new holiday tradition on the island.
"Our goal was to create a thoughtful, unique experience that people enjoy," said Moran. "To see how quickly the community responded to this and to see them enjoying the stadium in this way was incredible for my team and I."
In addition to the three outdoor rinks springing up in the Lowcountry, the Carolina Ice Palace welcomes skaters to its festively decorated Winter Wonderland indoor rink in December.