Washington
"You Can Never Beat the Americans": Being an Outsider, 6x Mr. Olympia Once Opened Up About the Challenges He Faced During His Illustrious Career
Dorian Yates is a bodybuilding icon. Yates first took the Olympia stage in the twilight of Lee Haney's era. In addition to winning the Mr. Olympia title six times, Yates has also revolutionized the sport in more ways than one.
ADVERTISEMENT
The article continues below this ad
While focusing on all aspects of bodybuilding, Dorian took the combination of muscle mass and conditioning to another level. Dorian was the first Mr. Olympia under 6 feet to weigh over 260 pounds during a competition. However, the legendary bodybuilder faced many challenges when he started bodybuilding. Yates once spoke about how doubters tried to discourage him.
ADVERTISEMENT
The article continues below this ad
The bodybuilding icon came from England
During an exclusive interview with bodybuilding.com, the interviewer asked: "What gave you the most joy as an Olympic champion?". The six-time winner said his performances left him immensely satisfied, largely given his background. Yates recalled not getting enough support or encouragement in the beginning. In fact, people tried to fill him with negativity.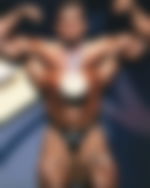 Yates recalled how the facilities in England underperformed compared to the United States when he first started bodybuilding. "The attitude of people over here was like, 'You can never beat the Americans'" said the six-time Mr. Olympia. Yates felt that people saw American bodybuilders as if they had "two heads and twelve feet tall".
Blood 'n Gut's mission 💥

For every single workout I had a goal that I wanted to achieve. I would read my log for 10 minutes and imagine how I would achieve my goals.

Then I would go to the gym and just give 100% with full concentration and dedication. pic.twitter.com/s52vlx1syZ

— Dorian Yates (@Dorian_Yates) August 9, 2022
The bodybuilding legend was treated similarly by Americans when he came to the United States to compete. People didn't think he would go too far as a bodybuilder since he had no connections. "You don't know the right people and you're not in all the magazines and nobody knows you" said Yates.
However, Yates proved all doubters wrong. "I think you can be successful no matter where you come from" said the six-time Mr. Olympia. However, he also said you have to be determined enough to work hard.
The man who ushered in a new era
Ronnie Coleman was perhaps one of the biggest mass monsters on the Mr. Olympia stage. However, it was Dorian Yates who ushered in the era of mass monsters. Dorian was one of the first bodybuilders under 6 feet to weigh over 250 pounds. Over the years, Yates has consistently pushed his body to its limits.
ADVERTISEMENT
The article continues below this ad
At his heaviest during a bodybuilding competition, Dorian Yates weighs about 265 pounds. In the off-season, Yates sometimes weighed over 300 pounds.
ADVERTISEMENT
The article continues below this ad
Watch this story – 8x Mr. Olympia Ronnie Coleman has disclosed the amount of money he has spent on bodybuilding competitions during his career
Despite being questioned at every step of entering the sport, Yates became a six-time Mr. Olympia. Where do you put Yates on the list of greatest bodybuilders of all time?