Utah
What are the treasures of the west side? Group asks community to pinpoint important locations
Doctoral students from the University of Utah's Department of Urban and Urban Planning pose in front of a West Side community map on Wednesday. The map is part of a collaboration between Neighborworks Salt Lake and the University of Utah. (Ashley Fredde, KSL.com)
Estimated reading time: 4-5 minutes
SALT LAKE CITY – Mestizo Coffeehouse is more than "just four walls and coffee" in the West Side neighborhood it serves, its owners claim.
Founded by local artists Terry Hurst and Ruby Chacón, the coffeehouse was created to provide a place for art sharing and an opportunity for civic engagement. The vision of a coffeehouse art gallery was shared by non-profit NeighborWorks Salt Lake, which focuses on neighborhood empowerment.
Through the collaboration, Mestizo Coffeehouse opened its doors in the Center Court of the Citifront Apartment complex, becoming the first real coffeehouse on the West Side.
The coffeehouse faced many challenges shortly after it opened, including the 2008 recession and a construction project that affected community access to the building. "A lot of people were losing their homes, losing their jobs — coffee shops weren't thriving around the same time," said David Galvan, co-owner of Mestizo.
But this coffeehouse was rooted in the community. Determined to preserve the coffeehouse, Hurst traveled to Washington, where he couch surfed and appeared on local radio shows to campaign for donations.
"He's crazy, but how can you not support a crazy person with that belief?" asked Galvan.
Mestizo weathered the storm and was the backdrop for many local gatherings and organizations. The coffeehouse has hosted political campaigns, festival gatherings, Dreamers, Occupy Utah, the YWCA's Violence Against Women project, League of Women Voters, Wild Utah, and Black Lives Matter, among others.
Most recently, the coffeehouse was the home of a community survey by NeighborWorks Salt Lake and the University of Utah Department of Urban and Urban Planning. It's called the West Side Tesoros Project – tesoros means treasures in Italian – and is a collaboration between the two entities to document the important areas of the West Side.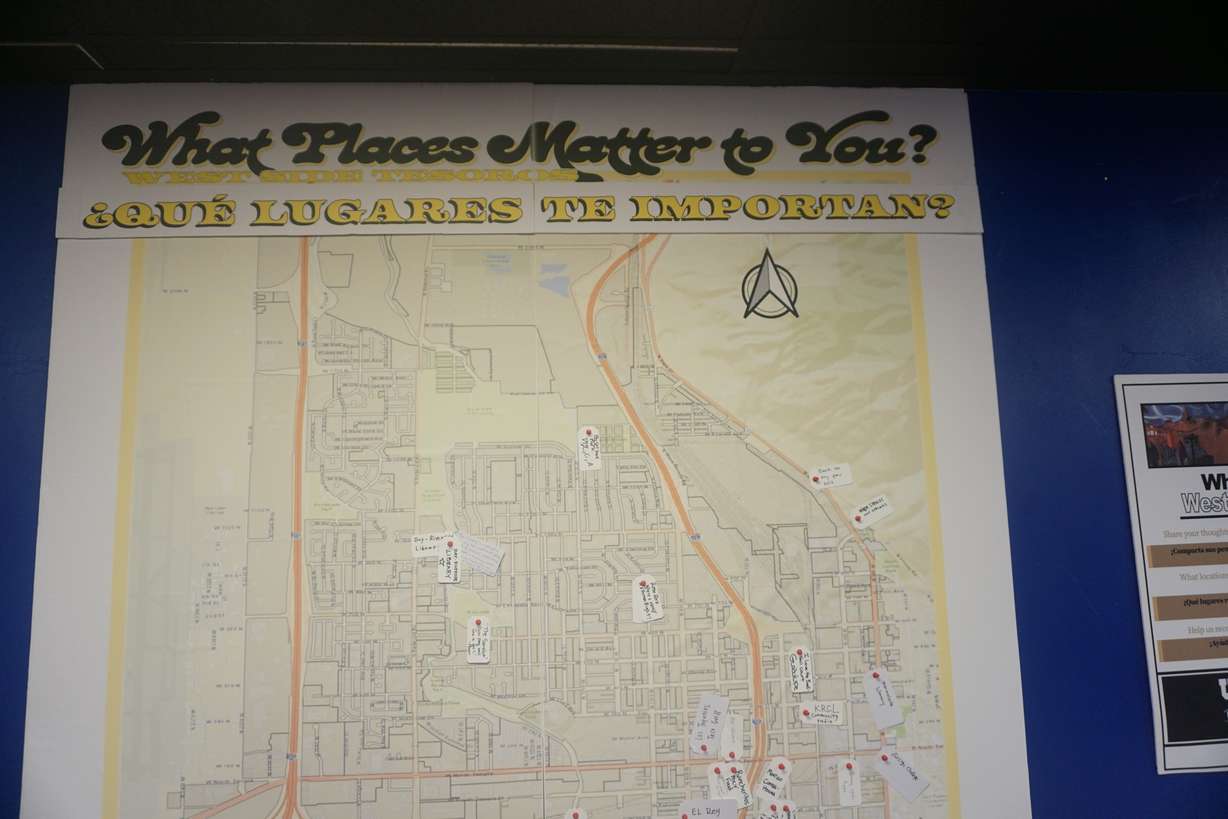 While the back room has been rearranged and repurposed in many ways, last week it resembled a war room with rearranged tables and a large map in the background. U. Professor Caitlin Cahill examined the West Side map closely and pointed out the labels attached to it. Each pin and tag represents a place of importance to the West Side community, a place of preservation.
An unusual general, Cahill said she considered herself more of a geographer than anything else, as she worked to "document the places where people feel safe, where they have a sense of being, where their culture reflects a sense of belonging." that reflects their community values ​​— in the context of the housing crisis and displacement in West Salt Lake City," she explained.
Displacement and gentrification have become an increasingly worrying issue amid Salt Lake City's affordable housing crisis. According to the Thriving in Place study, commissioned by the Salt Lake City City Council to better understand gentrification and displacement issues across the city, residents of Salt Lake City's west side have been at increased risk of displacement.
The study found:
Displacement affects more than half of Salt Lake City's white households and disproportionately affects black households.
The displacement patterns reflect historical patterns of discrimination and segregation, with areas at high risk of displacement closely matching areas historically marked red.
There are no more "affordable" neighborhoods in Salt Lake City for lower-income families to move to after displacement.
"If we also think about the diversity in terms of racial ethnic diversity and also the class diversity of the West Side, we do not want to continue this way that segregation has taken place and also address the concerns that we are hearing that people are concerned about safety issues, concerned about affordability," Cahill said.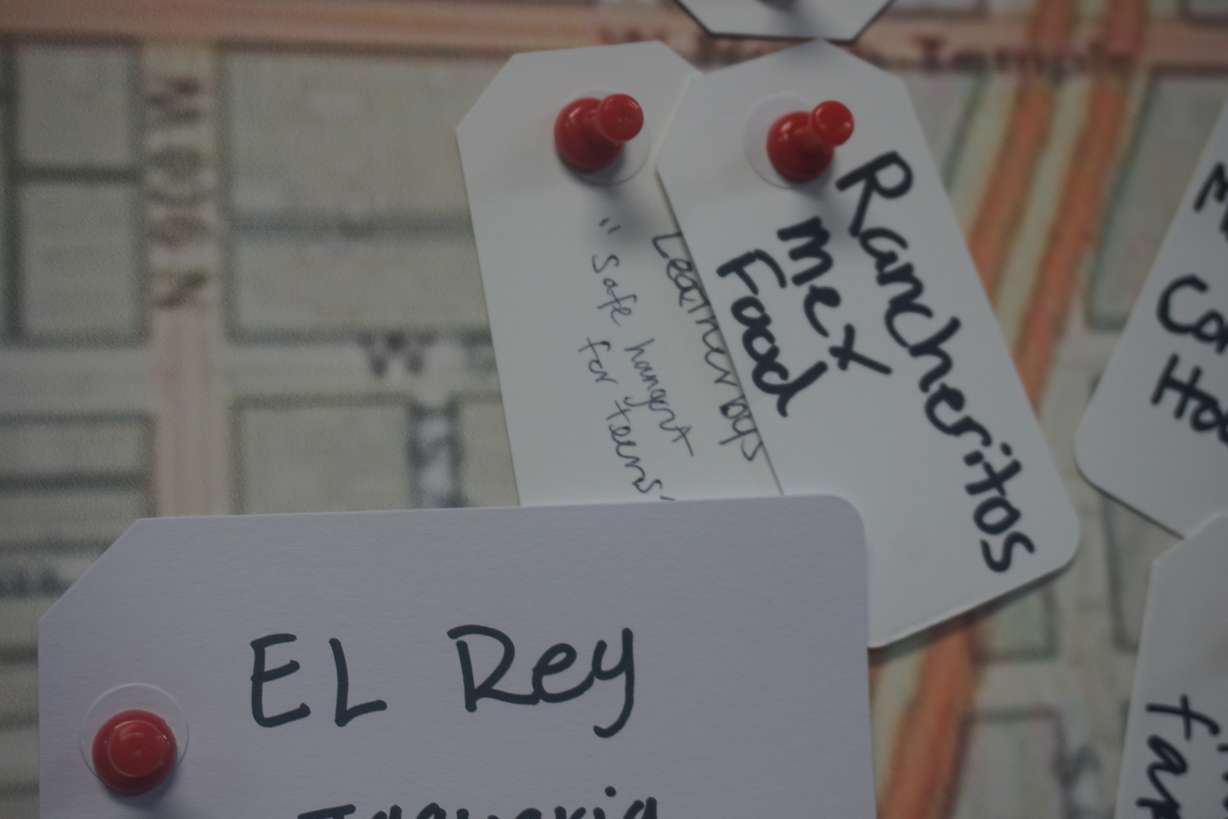 Longtime residents of the west side of Salt Lake City have been forced to move or consolidate their homes to stay in the same neighborhood. Community facilities like grocery stores and restaurants have closed or relocated. Places loved in the community and associated with their character are slowly disappearing, along with many residents.
"The Taqueria El Rey de Oros, which used to be on the west side just across the street from Chavez – and this is a place that has long been run by generations – eventually moved out of the west side," explained Jasmine Walton, director of community initiatives at Neighbor Works. "I think it's just places like that that we want to make sure are preserved. … It's been a staple of the community for a very long time, but is no longer here so we can all continue to enjoy it."
The "treasure map" should recognize places of importance and character, document the place itself and perhaps also why it is no longer there. The physical map will remain and after the survey a digital map will be available. The groups also hope to produce booklets documenting these treasured areas.
"This map right here is just a mapping of us of what these places look like so we can see tangibly how this is like a place that has become so special to someone and has created the integrity of the community around them. How it can be as simple as someone's first apartment, where someone had their first kiss," said Parvis Faiz, a student at U. "Those little instances where people meet, where community is born."
×
photos
similar posts
The latest stories from Salt Lake County
Other stories that might interest you