US
Making a difference restoring Madigan FIT trail | Article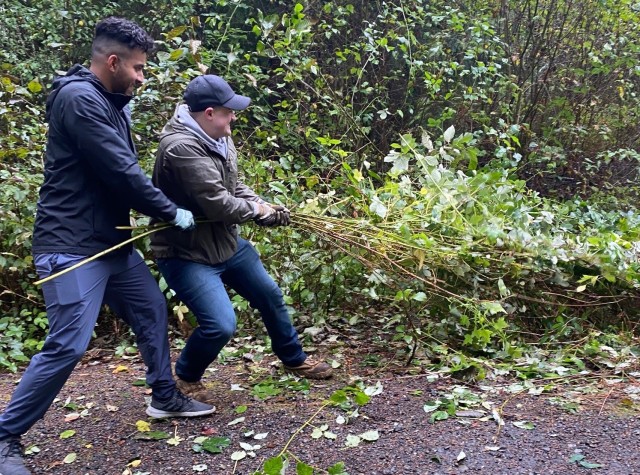 JOINT BASE LEWIS-McCHORD, Wash. – And it's a wrap! On Make a Difference Day 2022, volunteers of all ages performed restoration work on the Madigan FIT Trail at Joint Base Lewis-McChord.
Forty-eight dedicated volunteers, including several Boy Scout groups, worked hard to remove invasive Himalayan bramble, holly, gorse, sedge and other invasive species that will make this trail more accessible.
"We really made a difference with the enthusiasm of the volunteers," said Cathy Hamilton-Wissmer, sustainability outreach coordinator at JBLM's Directorate of Public Works. "The Directorate of Public Works Environmental has partnered with the JBLM Volunteer Coordinator of the Directorate of Human Resources for Make a Difference Day over the past several years. This allows the JBLM community to recreate a green space and bring people together to explore places they may not be familiar with in the canton."
The Madigan FIT Trail is a padded running trail along Murray Creek. The trail runs from Old Madigan Housing to Madigan Army Medical Center. A nice green space next to a groundwater fed creek that offers little stops for situps or burpees. It's not too long and there's plenty of parking across from Old Madigan and Fisher House.
Professional biologists from JBLM provided volunteers with guidance and education about the ecosystem surrounding the Madigan FIT Trail and Murray Creek. This trail is home to native species such as sword ferns, Douglas firs, blueberries, cottonwoods and more. These plants were affected by the ivy and brambles along the trail and access was compromised.
National Make a Difference Day was created by USA Weekend Magazine in 1992 and accompanied by Points of Light. National Make a Difference Day takes place on the fourth Saturday of October. Millions of people have come together in a common mission to improve the lives of others.
The goal of JBLM is not only to restore and beautify the trail, but also to celebrate the connection between people and green spaces, to inspire environmental protection and to encourage the use of these spaces for education, health and recreation.
With the support of JBLM volunteers, it is possible to keep these green spaces healthy and available for future missions and future generations.