Michigan
Indigenous Students at MSU Learn Key Life Lessons from Community Aunties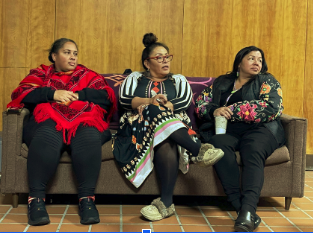 details

Through Neeley Bardwell



EAST LANSING, Mich. – Although Native American Heritage Month, which runs throughout November, is over, Native American students still carry the knowledge they learned from their "aunts" at a heritage event.
The North American Indigenous Student Organization (NAISO) is a student-centric student organization at Michigan State University (MSU) that creates a safe space for Indigenous students by providing opportunities for cultural, spiritual, and academic support.
Never miss Indian Country's biggest stories and breaking news. Sign up to get our reports straight to your inbox every weekday morning.
Each November, NAISO hosts a series of Heritage Month events. One this month was an event called Aunt Chats.
The woody aroma of burning sage fills the NAISO room as the scent wanders the halls of Shaw Hall. It is a soothing cleansing scent that brings a sense of calm to the room and the spaces and people it reaches.
The aunts come from different backgrounds of the broader Aboriginal community, but all have one thing in common: each carries a sense of responsibility to nurture the younger generations.
Shay Sandoval-Flores (Ojibwe/Seminole/Tarahumara) is currently an academic advisor at MSU and was President of NAISO approximately 25 years ago. Angie Sanchez (Grand Traverse Band of Ottawa and Chippewa Indians) is a current MSU graduate student whose dissertation focuses on access to breastfeeding in Indigenous communities. Stephanie Chau (Little River Band of Ottawa Indians) serves at MSU as an Assistant Director of Undergraduate Diversity at the College of Agriculture and Natural Resources.
As soon as you enter the room, you can feel the warmth radiating from each aunt's smile. Their laughter fills the room as they share stories from their youth, share life lessons with students, and answer questions about struggles they go through.
One student asked how they prioritize and divide up tasks when their lives are busy, both personally and professionally.
"You have to set priorities and things won't always go 100 percent, and you have to deal with that," explains Sandoval-Flores. "I am enough. I do enough, I earn enough. I eat enough. I tell myself this all the time because this world, other people and sometimes even your friends and family make you believe that you are not enough, and sometimes you have to tell them to kick stones and be okay with it.
Sanchez, who explains that she'd rather "wing" than plan ahead, talks about setting boundaries and expressing feelings.
"It was just a lot of learning boundaries and being okay with it, even if you might feel bad, but I had to learn to live with my feelings and just let them be, even if I don't like them. "
Chau, who is the complete opposite of Sanchez, explains that she is a chronic over-planner.
"I'm an over-planner. I like to plan. It drives people crazy sometimes. I'm definitely a planner because it reduces stress for me. The more you can plan, the less stressful life and everything is. I wish I had used it when I was younger. I used to swing it better," Chau said. "And it's important to set those boundaries. Being able to say no is one of the most important skills you can learn."
During the event, a Shaw Hall facility employee interrupted the conversation and asked if NAISO would remove her stain. The burning of sage or incense is a protected religious practice that Native students are permitted to perform in all rooms, with only a few rooms requiring prior approval. In this case we had our waiver, so we let the stain continue to burn.
Despite the hiatus, the Aunites continued to provide knowledge and advice to the students. Sanchez shares her experience of others who are petty or negative towards her and how she responds.
"I'm trying to figure out why they're being petty with me. What drives this? Then it's a question of how I want to process it? Is this person someone I'm interested in? How a relationship with? Or is this someone I think is so damaged that it won't heal no matter what I do or say? Or is it someone who's just really crazy, like who's real, like crazy, right? She goes on to explain the potential root of the conflict. "We're dealing with things we don't even know we're dealing with because of all the things our ancestors went through."
For students at MSU, the knowledge and wisdom shared by aunts is greater than just reaching out, it's part of the larger effort to value and emphasize matriarchal knowledge.
"I think it's really great not only to hear their answers to the questions, but also to hear their stories about resilience and their stories. I can find similarities between their stories and mine, or you can just tell that they worked really hard to get what they wanted, and that's really inspiring," said Nevaeh Marshall, a fourth-year student at MSU who is also Citizen of Sault is Ste. Marie tribe of Chippewa.
Marshall explains that they're glad matriarchs are being held in greater esteem, and even includes dichotomy and queer-identifiers in the definition of what constitutes a matriarch.
"I honestly think that sometimes even the matriarchal values ​​can get lost even in aboriginal spaces. Growing up, I felt like there was a lot of toxic masculinity and no respect for women in those spaces," Marshall explains. "I've been seeing a lot more matriarchy stuff going around lately and I think that's really cool. It is important to keep women on such a pedestal because women are sacred. We are all born of women and it makes sense that we are a matriarchy."
Marshall, who has a close relationship with Aunt Chau, demonstrates the importance of fostering counseling-centered relationships between the older and younger generations.
"I can go to her [Chau] as one of my own aunties, and ask for her help and receive her guidance."
More stories like this
Western Michigan University names Lance Taylor (Choctaw) as sole NCAA Division I Native American Head Football Coach
The New York State Education Department orders schools to lose native mascots or funding
Lionel Bordeaux, longtime President of Sinte Gleska University, dies
American Indian College Fund & Pendleton's Student Blanket Contest ongoing
Appreciate a local perspective on the news?
For the past decade, we've covered the important indigenous stories that are often overlooked by other media. From the Standing Rock protests and the toppling of colonizer statues during racial justice protests, to the ongoing murdered and missing indigenous women (MMIW) epidemic and the overdue reckoning surrounding assimilation, cultural genocide and Indian boarding schools, we've been there, to provide a Native American perspective and elevate Native American voices.
Our news is free for everyone to read, but not free to produce. That's why we're asking for a donation this month to support our efforts. Every contribution – big or small – helps us to remain a force for change in the Indian country and to continue telling the stories that are so often ignored, erased or overlooked. Most of our donors make a one-time donation of $25 or more, while many choose to make a recurring monthly donation of $5 or $10. Whatever you can do, it helps fund our Aboriginal-run newsroom and our ability to report on indigenous news.
Donate to Native News Online today and support independent indigenous journalism. Many Thanks.