Kentucky
Kem reflects on career in public service
When Mike Kem retires at the end of the year, he will have served 24 years as a Christian County employee. Some of his younger constituents may not know what Kem faced when he took office – but I'm old enough to remember that era in county government and for that reason I thought it fitting to me on Election Day to take some time to talk to him about his career in public service.
And as I said to one of his clerks in the courthouse that morning, as I was trying to figure out where to find him, I felt like someone should take a picture of Kem at a polling station on the occasion of the last election he would be overseeing . It seemed like a moment in local history worth documenting because I knew Kem would never draw that much attention.
It's an understatement to say that Kem isn't the type of man who looks for opportunities to have his picture taken. You could say he fits the cliché of an accountant quite well. But he has to be given credit for accommodating my request and letting me take some photos of him stopping by the polling station at the Christian County Senior Center on election day. He had just returned to town after driving to Crofton to check on a printer that was down at another polling center. He stopped at the senior center because one of three ballot scanners there was not working.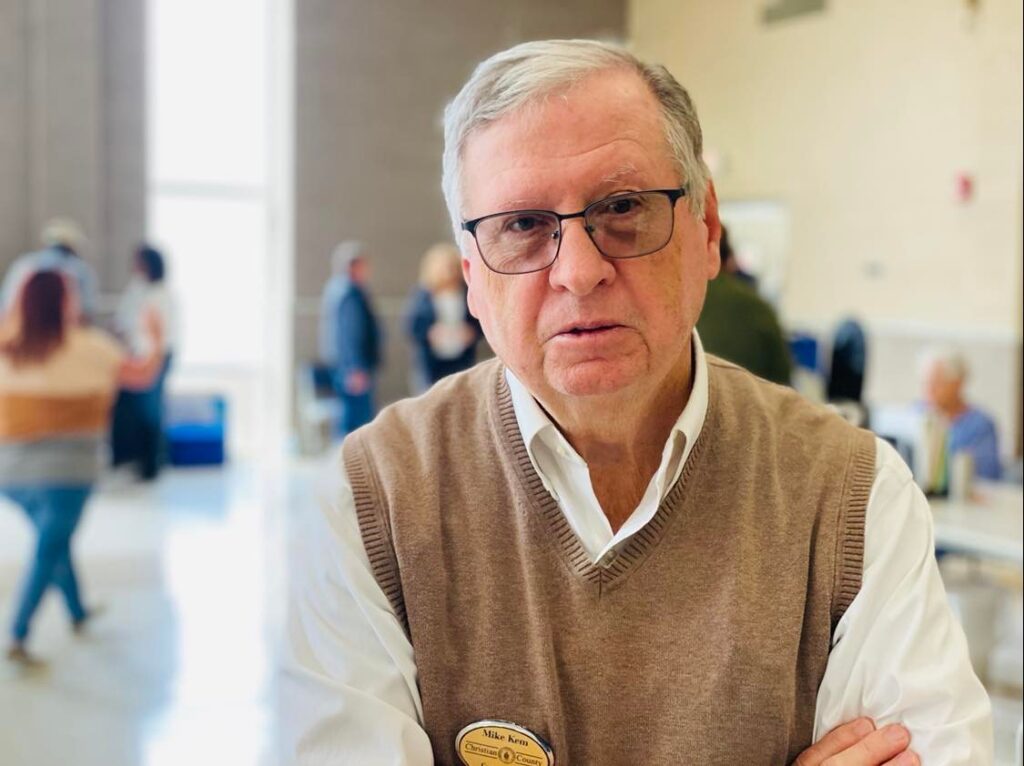 Upon his election as County Clerk in the late 1990s, Kem inherited an office temporarily headed by Dudley Lacy, who was interim County Clerk. Lacy, a district judge, had been chosen for the job after Elwanda Kennedy left office early following a criminal investigation. She was charged with theft and received a $35,000 refund after prosecutors said she failed to turn in some receipts at her office. She entered an Alford plea, which meant she maintained her innocence but admitted the Commonwealth had enough evidence to convict.
In addition to conducting elections, a county clerk oversees the office, which processes real estate deeds and records, vehicle and boat registrations, and marriage certificates.
Kem owned an accounting firm and began his second term as a district judge when he was elected district clerk. He said the courthouse offices only had a handful of computers and clerks still used muffin tins to store coins in cash drawers.
In addition to modernizing the office, he set about changing the work culture so that staff treated those working in the courthouse more like customers. It was a change that I personally witnessed and can say has happened.
"I was shocked to see how backward the office was," he told me, recalling the coin muffin tins.
I remember many of these details myself because I was reporting on the New Era office during the time Kennedy was impeached.
But I was surprised by other details of Kem's life in politics that I hadn't heard before interviewing him on election day.
Kem, a Democrat, described the day he registered to vote in high school.
"I will never forget the day [then-clerk] Tommy Morris registered the seniors. … He said, 'What do you want to be, a Democrat or a Republican?'
Kem asked how most people registered. When Morris responded that almost everyone in Christian County was a Democrat at the time, Kem replied, "Well, I'm going Republican."
Within a year, Kem was a student at Hopkinsville Community College and elected president of the Young Democrats. A change of party was already in the works because he supported Democrat Katherine Peden of Hopkinsville in her run for the US Senate. She won her primary, but lost in the 1968 general election to Louisville Republican Marlow Cook.
In 1972, Kem earned a bachelor's degree in business administration from the University of Kentucky. It was difficult to find work straight out of college so he took a job as a social worker for 10 months and then found a management position at JC Penney in Frankfurt.
Kem felt he understood the company's inventory system better than his boss. In fact, he was pretty sure his boss was cheating on the company — and told him so.
"You don't tell your boss he's cheating," Kem said, laughing.
After that misstep, he spoke to one of the company's accountants, who told him, "You have to become an accountant."
She was right, Kem thought, and headed back to Britain. He earned his accounting degree in 1978 and returned to Hopkinsville to work for Thurman and Campbell, an accounting firm. He later founded his own company.
During his time as district judge, Kem was instrumental in devising a plan for a paramedic EMS service for the city and county. Previously, the ambulances were only manned by paramedics. In addition to improving the level of care ambulance crews can provide, the service can bill Medicare and Medicaid at higher rates, Kem said.
Now that he's retiring, Kem said his first priority will be spending more time with family. Kem and his wife Vivian, a retired teacher, have five grandchildren in Hopkinsville. The oldest is 17.
"I'm ready to go," he said, acknowledging that his post has been more stressful in recent years. In the wake of the coronavirus pandemic, the conduct of elections has received much more public scrutiny.
Kem's successor will be Melinda Humphries. A Republican, she has worked for Kem as the county election coordinator for 20 years.
"It was a good run. I enjoyed most of it," he said.