Idaho
Idaho K-12 Student Enrollment Up Slightly | Idaho
BOISE — The first statewide enrollment numbers for K-12 schools are in, showing that Idaho's school-age population has increased by just 0.3%, or about 1,000 students.
This is comparatively low; For years, annual enrollment growth in Idaho was about 1.3% until it dropped 1.6% at the height of the pandemic in the 2020-2021 school year. That was the state's first enrollment drop in 30 years.
Enrollment increased by 1.7% last school year. There is growth again this school year – albeit modestly.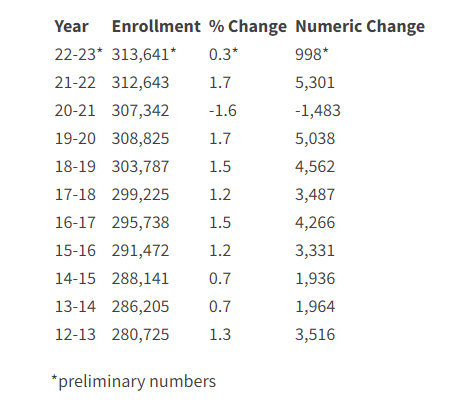 A zoomed-in view of districts and charters adds more nuance to the story.
Charter schools have 700 new students – partly due to four new schools this year. Nevertheless, almost half of all existing charters show declines.
And traditional school districts, growing or shrinking, sometimes defy expectations.
The Idaho Falls school district, which struggles with overcrowded schools and cites projected growth as worrying, grew by only about 60 students (0.6% growth, equivalent to enrollment of 10,116). Voters recently rejected the district's application for a $250 million bond that would have funded the construction of a new Idaho Falls High School, two new elementary schools, and extensive modernization of Skyline High School.
The nearby cities of Bonneville and Sugar-Salem saw some of the state's largest increases, adding 267 and 385 students, respectively. Oneida County tops the state's growth list with 847 new students.
West Ada, Idaho's largest county, saw minimal growth (0.2%) and still hasn't returned to pre-Covid numbers. Numbers are down at the Idaho Virtual Academy for the second year in a row, where enrollment fell by 419 students this school year. And the Boise School District has seen its enrollment decline for the seventh year in a row; With 22,580 current students, enrollment is at its lowest level since before 1990.
The numbers are important because they determine the amount of funding each district receives from the state. The state used to allocate funding based on average daily attendance, but has switched to enrollment-based funding since the pandemic — a move that has garnered broad support from school leaders across the state.
This batch of registration data is preliminary – the official figures used for funding will not be released until December. Still, this first look gives some indication of which circles and charters are growing or shrinking.
Read below for some key takeaways from the latest data from the State Board of Education.
Enrollments in charter schools have increased overall; but just over half show growth
Enrollment at charter schools has increased by about 700 students this school year. Despite this, enrollment has fallen nationwide at 30 out of 71 charters.
Most of the growth is due to four new charter schools:
Gem Prep: Meridian South, which enrolled 194 students
Elevate Academy North (in Post Falls), which had an enrollment of 227 students
Elevate Academy Nampa, which has enrolled 332 students
Mountain Community School (in McCall), which enrolled 85 students
But there was also growth in existing charters. Here are the top 5 in terms of growth: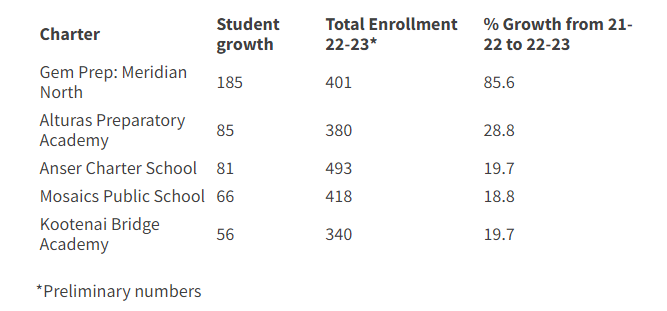 Some existing charters also saw triple-digit student declines. Idaho Virtual Academy saw a 19.6% drop from 419 students and Inspire Virtual Charter School saw an 11.7% drop from 175 students.
The Idaho Virtual Academy, an online-only school, saw its peak enrollment in the 2020-2021 school year (the peak of the pandemic) and its enrollment (1,720) is now at pre-pandemic levels.
Inspire Virtual Charter enrollments also peaked between 2020 and 2021, but the current numbers (1,324) are about 300 students higher than before the pandemic.
Growth and decline vary from district to district
Here's a look at the five traditional public school districts in terms of growth: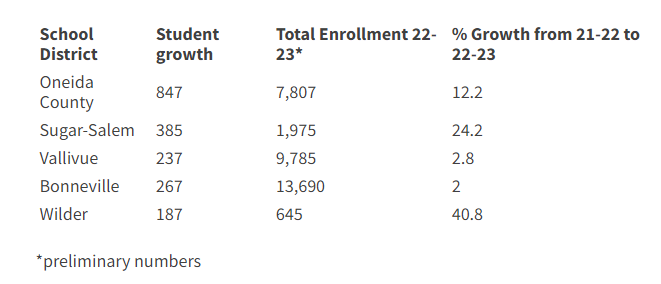 The Oneida County School District includes four traditional brick-and-mortar schools and two online schools — one for grades K-8 and the other for grades 9-12. Students from all parts of the state can enroll in the latter two schools.
The district saw a huge increase in enrollments in 2020-2021 – from about 3,300 students to about 7,900 – likely due to students going online during the pandemic. The next year enrollment fell by about 900 students, and this year it has increased again by about 850 students.
Jon Abrams, the Oneida County School District superintendent, said this year's number was "much higher than we anticipated."
Why the big jump?
"I don't know exactly," Abrams said. "The best way our numbers are growing is through word of mouth — parents are talking."
Abrams said parents like the flexibility and choice his district offers — students can choose to attend in-person or online classes.
Another district on this year's top growth list – Wilder – also has an online school. The Idaho Future-Ready Academy is new this year, serving grades K-12 and able to enroll students from across the state — certainly contributing to Wilder's enrollment surge.
In the growing Vallivue school district, a $55 million loan that would have funded two elementary schools, renovations and safety upgrades, and land purchases for new school sites failed this summer.
In terms of the decline, the Boise School District saw a 2% drop of 467 students, resulting in enrollment of 22,580 – its lowest level in more than 30 years.
Nampa saw a 1% drop of 141 students (representing an enrollment of 13,283) and Caldwell a 2% drop of 105 students (representing an enrollment of 5,443). Post Falls lost 1.7% of students, or 105 (equivalent to an enrollment of 6,034) — likely due to new charter schools opening in those areas this fall.
The largest counties in the state, by enrollment
By enrollment, these are the 10 largest traditional public school districts in the state: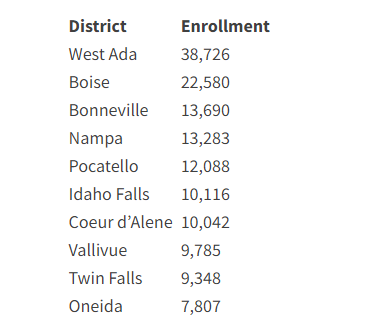 HERE are the provisional enrollment numbers as of September 30th. Official enrollment numbers – used to determine funding – will be released in December.